Diversity, Equity & Inclusion (DEI) Resource Center
Let us partner with you throughout your DEI journey with research-informed solution sets, surveys, advisory support, workshops, templates, tools, training, and practical advice from experienced DEI professionals
Talk to an Analyst
HR's role in leading the way for culture change, challenging organizational norms, and leading the way in the DEI journey cannot be understated. Building a culture of inclusion, that leverages diversity and focuses on equity has the potential to strengthen the organization's ability to attract and retain talent. It also helps realize the benefits of a diverse workforce by fostering a sense of belonging. Culture change does not happen overnight - there is no better time than now to make DEI a strategic priority across your organization.
The Organizational DEI Journey
McLean & Company supports organizations throughout the DEI journey.
We believe that embedding DEI into your organization must be intentional, and ever evolving throughout the journey, so we equip your organization with practical resources and tools for DEI implementation by laying a foundation that supports a sustainable approach to DEI.
As an HR research firm, we are dedicated to making positive and impactful change in the world through our products and services. We are committed to applying an inclusive and antiracist lens in the work we do by standing against racial injustices and holding ourselves accountable for unlearning and challenging systemic racism.
– Jennifer Rozon, President of McLean & Company, and David Godfrey, CEO
1
Strategize
Diversity, equity, and inclusion (DEI) is complex and heavily nuanced. This means that every DEI strategy must be based on specific DEI challenges the organization faces.
Use McLean & Company's blueprints, tools, and diagnostics to build a sustainable strategy by focusing on real people's experiences to uncover and address systemic inequities.
Create a People-First Diversity, Equity, and Inclusion Strategy
Conduct a current state assessment
Determine the purpose of DEI
Determine the governance model and select DEI initiatives
Plan to launch the DEI strategy
2
Plan for Culture Change
Diversity on its own will not create inclusion. Use McLean & Company's research and tools to realize the benefits of a diverse workforce by embedding inclusion into work practices, behaviors, and values, ensuring accountability throughout the organization.
Equip stakeholders with resources from McLean & Company's Change Management toolkit to successfully manage organizational change.


Embed Inclusion Into the Organization's Culture
Determine the current state of inclusion
Frame inclusion for the organization
Mobilize inclusion efforts throughout the organization
Equip managers with tools to create an inclusive environment
3
Implement
Use McLean & Company's research and tools to implement DEI initiatives and inclusive HR programs to address DEI challenges across the employee lifecycle.
Nudges: A Paradigm for HR to Influence Employee Behavior
Introduction to Nudges
Ethical Concerns
Nudging Framework
Nudges Applied in HR
4
Sustain
Diversity, equity, and inclusion is an ongoing journey of learning and unlearning. Use McLean & Company's learning offerings, research, and tools to sustain the organization's commitment to DEI.
Discover HR trends and new opportunities shaping the DEI landscape to sustain and evolve your DEI strategy

How to Be an Ally
Equip employees with the knowledge and skills they need to be allies to their colleagues.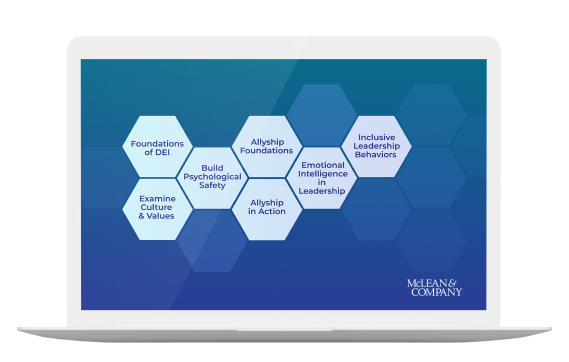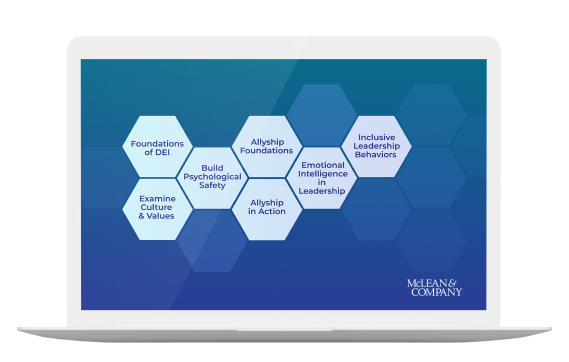 Education & Awareness
Create a DEI learning road map to empower employees with the resources they need to participate in and drive the organization's DEI efforts. McLean & Company's DEI learning offerings include self-paced LMS downloads, customizable training decks based on research, short guides such as our anti-racism guide, and facilitated training programs. Learning offerings are available for general employee, people manager, and HR/DEI audiences.
DEI Foundations for Leaders
Create leaders who innovate, explore, and foster inclusion so your business can achieve its outcomes with this blended learning program.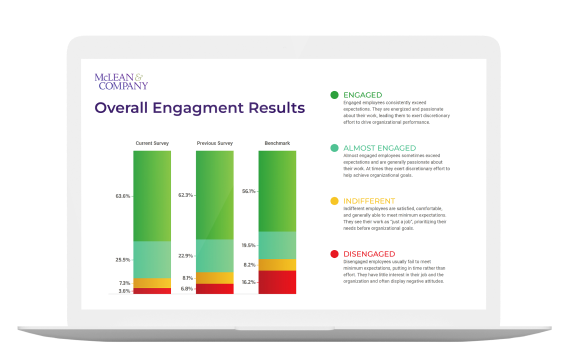 Diagnostics
Assess the current state of DEI and track the impact of DEI initiatives. McLean & Company's diagnostic offerings and facilitated focus group offerings enable you to focus on real people's experiences to drive impactful DEI initiatives forward.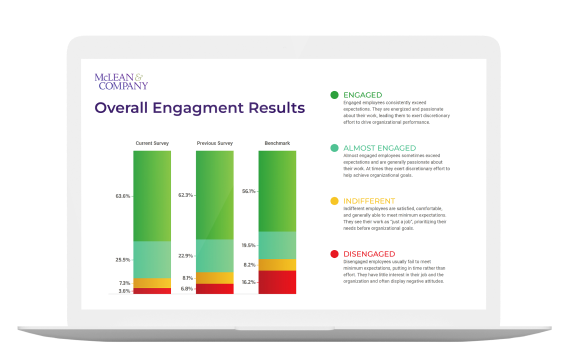 Advisors & Facilitators
McLean & Company's Diversity, Equity & Inclusion analysts are available to support your DEI journey through guided implementation calls, workshops, and additional advisory services.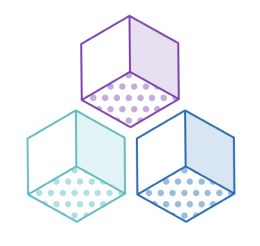 Cinnamon Clark
Practice Lead, Diversity, Equity & Inclusion Services
Obie Odunukwe
Director, HR Advisory Services
Adrienne Go
Director, Advisory Services
Online Workshop
Accelerate your DEI journey with a facilitated McLean & Company workshop to Create a People-First Diversity, Equity, & Inclusion Strategy.
1
1
DEI Diagnostics, Diagnostic Debriefs, & Focus Groups
Complete DEI diagnostic
Bring in McLean & Company's expert facilitators to dive deeper into survey results and build an action plan
Additional support in communicating results and action planning available
Online Workshop
2
Conduct a Current State Analysis
Established framework of DEI priorities to support organization's long-term strategic initiatives/goals
Determine the Purpose of DEI
Defined overarching DEI purpose statement
Determined the organization's DEI strategic pillars
Identified high-level goals and metrics
Select Initiatives & Plan to Launch the Strategy
Selected initiatives to implement over a specified timeline
Created a high-level plan to execute on the DEI strategy
Completed DEI Strategy Presentation Template
Completed relevant tabs in DEI Workbook
Add-Ons & Additional Facilitated Solutions
3
3
Add on to online workshop: DEI Governance Model Development
Identified appropriate governance structure
Defined roles and responsibilities of governance components
4
Add on to online workshop: Action & Communication Planning
Completed DEI Strategy Action & Communication Plan
5
Add on to online workshop: Employee Life Cycle Analysis
Examined the people, processes and technology at each stage of the employee life cycle
Facilitated Diversity, Equity, & Inclusion Roundtables
An in-depth discussion on DEI, why it should be an organizational priority, responsibilities and implications for the organization
Roundtables are available for:
Senior Leaders
DEI Leadership, Committees, Councils and Employee Resource Groups
HR Stakeholders