HR Stakeholder Management Survey
HR Stakeholder Management Survey
Aligning HR's goals with those of the business is crucial for HR department success
People costs represent the single biggest line item in the budget, which makes it critical that HR is aligned with the business and gets the most value out of the company's employees. McLean & Company's HR Stakeholder Management Survey is a low effort, high impact program that will give you detailed report cards on the alignment of HR with the business, including stakeholder satisfaction with HR's core services and administration. Use these insights to prioritize key programs and planning efforts, assess stakeholders' expectations of HR, and optimize HR and business alignment.
Understanding the needs of your stakeholders is the first and most crucial step in developing an HR strategy that impacts employee engagement and well being.
Contact McLean & Company to Get Started with Your HR Stakeholder Management Survey
Call: 1-877-281-0480 or Contact Us
Benefits of HR Stakeholder Management Survey
Key Stakeholders
Determine the HR needs of key stakeholders
Optimize HR and business alignment
Credibility
Move beyond administration to deliver effective programs and planning
Establish trust between HR and the business
Improve
You can't manage what you can't measure
Stop flying blind
Focus
Find out business priorities for HR
Get the most value out of Resources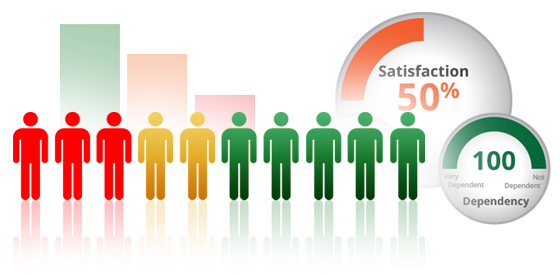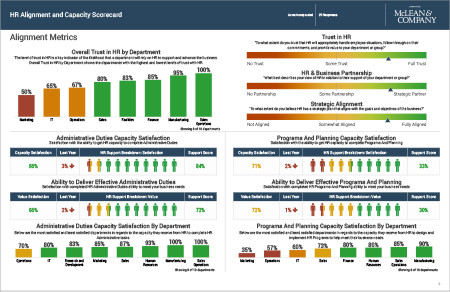 Download And Preview Sample Report
McLean & Company's HR Stakeholder Management Survey is set up to apply to all organizations. Download a sample of the survey and report card you will receive from McLean & Company's core offering.
Report
Preview Report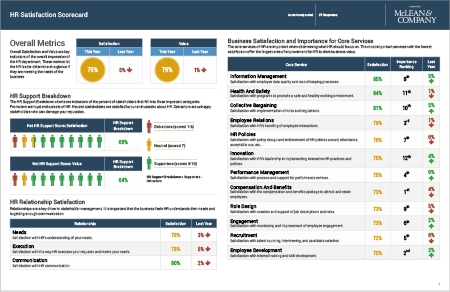 HR Satisfaction Report Card
Features
A scorecard that annually measures the satisfaction of your key decision makers.
You Get:
Overall HR Satisfaction & Value
HR Stakeholder Support Breakdown
HR Relationship Satisfaction
Core Services Satisfaction
Top Business Priorities
Benefits
No activity or project is more important than showing the company you care enough to measure their satisfaction once a year.
So You Can:
Show you care about satisfaction and communicate:
HR Relationship Satisfaction
Top Business Priorities for HR
Core HR Services Satisfaction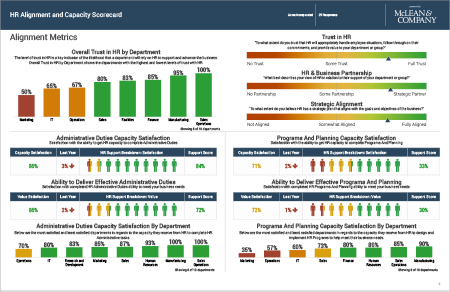 HR Alignment & Capacity Scorecard
Features
A capacity and alignment scorecard that summarizes the opinion of HR and HR's ability to deliver on programs and tasks.
You Get:
Business trust and alignment with HR
Trust and alignment by department
Satisfaction with capacity for administration, programs, and planning
Capacity satisfaction by department
Benefits
The business often doesn't realize the impact that investment in HR can have on the business. Prove that current demands and the potential for proactive development mandate increased investment in HR.
So You Can:
Demonstrate demands for HR and HR's potential to the CEO and Executives
Communicate capacity and alignment issues to:
Stakeholder Satisfaction Report Cards
Features
Individual department report cards that summarize satisfaction and alignment with HR for each department, compared against the company average.
You Get:
HR Satisfaction & Value by department
Capacity Metrics by department
HR Relationship Satisfaction by department
Core Satisfaction by department
Benefits
Individual department HR scorecards which measure each department's satisfaction and alignment with HR.
So You Can:
Manage the needs of individual Business Leaders and their teams
Communicate results to Individual Business Leaders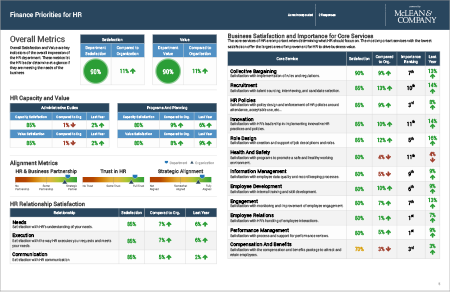 Satisfaction by Department
Features
A view of all department results in one spot.
You Get:
Department Satisfaction score
Department Trust score
Department Partnership score
Department Top Ranked HR Service
Benefits
You can use this view to compare the departments by Satisfaction, Trust and Partnership scores.
So You Can:
Prioritize which departments to focus on first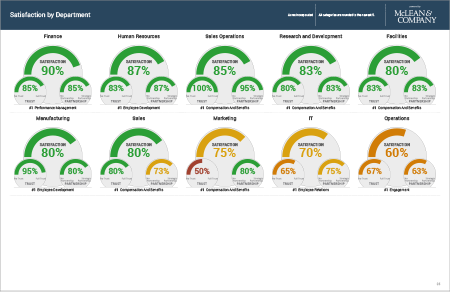 HR Stakeholder Management Report Preview