HR Management & Governance Diagnostic
HR Management
& Governance Diagnostic
Improve HR effectiveness.
As HR teams grow, it becomes harder to get visibility into team members' perceptions of relative importance and effectiveness of each HR functional area. This can lead to misalignment and impact HR's ability to enable achievement of organizational strategy.
What's more, ambiguity and overlaps of responsibility and accountability for HR functional areas can cause confusion and impact effectiveness.
Optimize team alignment and enhance HR effectiveness with the HR Management & Governance Diagnostic. This powerful tool enables organizations to create evidence-based action plans, leading to improved people and culture initiatives.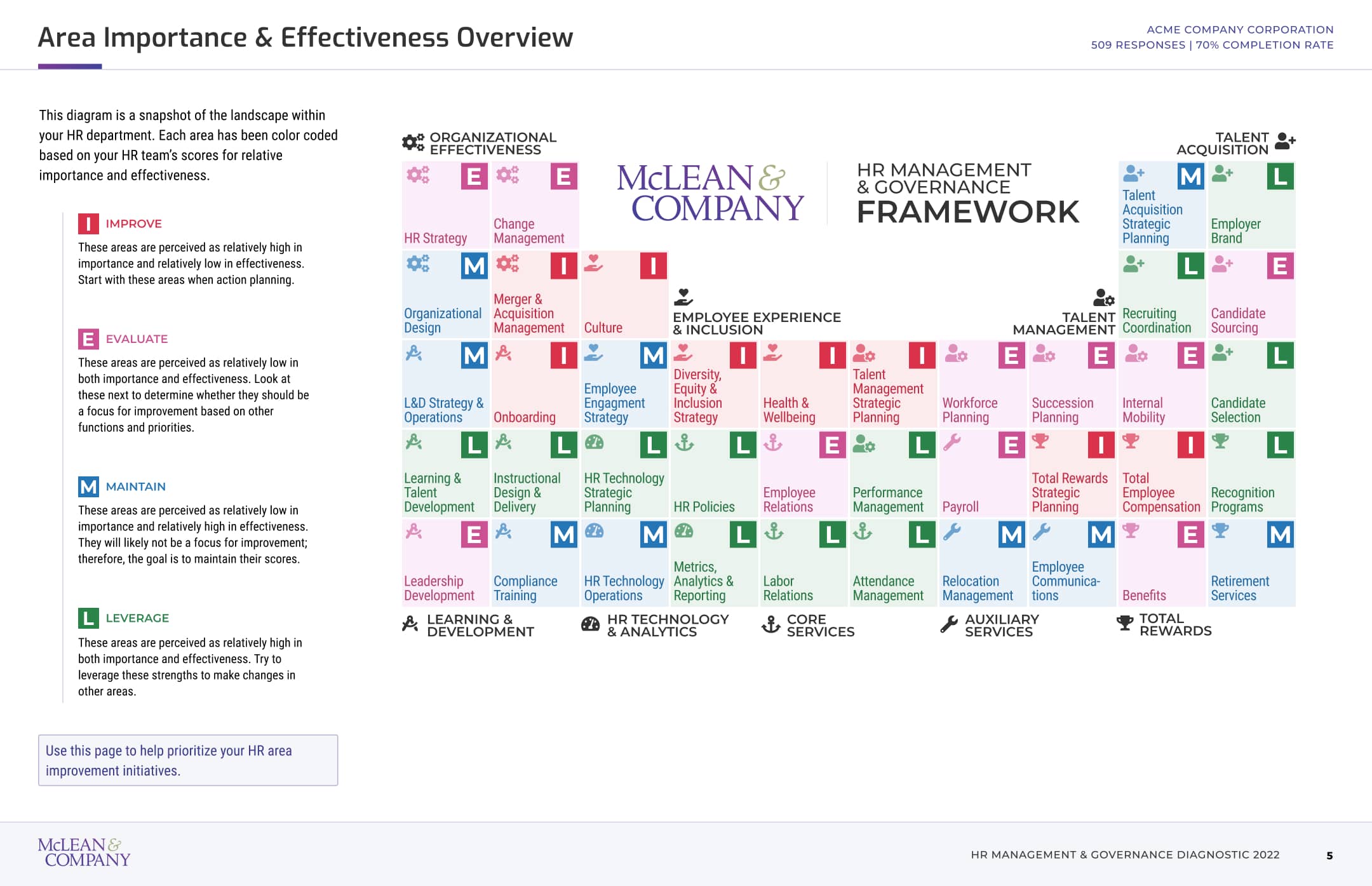 HR Area Importance & Effectiveness Overview
Evaluate
Importance and effectiveness of HR areas
HR areas to improve, leverage, evaluate, and maintain
Action
Explore the HR team's perceptions of each area's importance and effectiveness
Identify HR areas to prioritize for improvement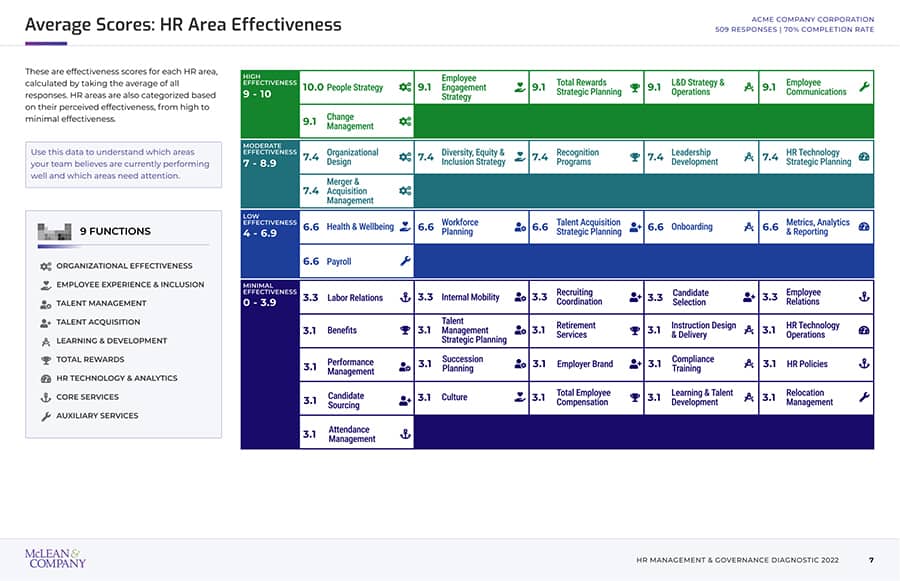 Average Scores: HR Area Effectiveness
Evaluate
Perceived effectiveness of HR areas
Effectiveness of each HR area relative to others
Action
Examine which areas drive the most value to HR and the organization
Use this to inform the prioritization of key HR areas to focus on improving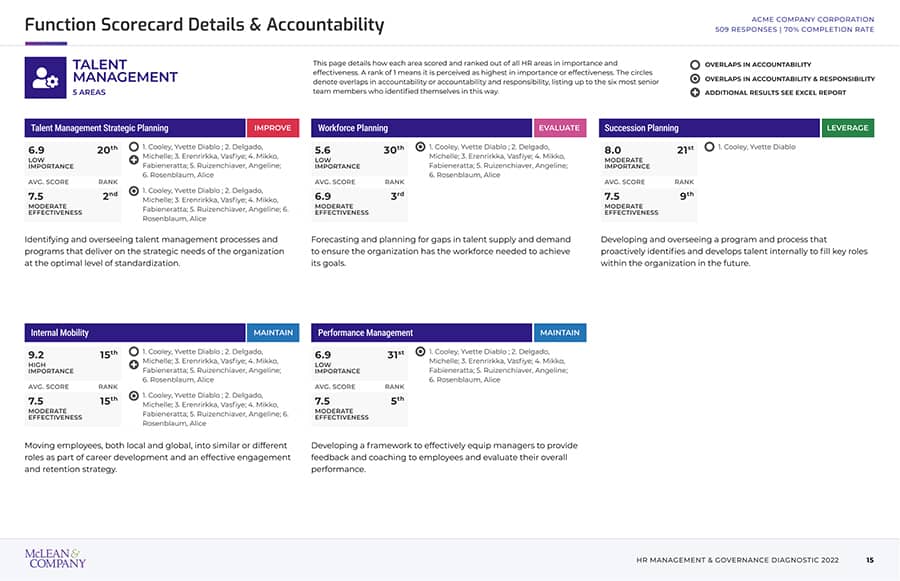 Function Scorecard Details & Accountability
Evaluate
Distribution of accountability and responsibility across all HR areas within the function
Average area effectiveness and importance scores and area ranking
Action
Identify gaps and overlaps in accountability and responsibility
Redistribute accountability and responsibility from HR leaders to the rest of the team as necessary
Build a plan to ensure all HR areas have assigned accountability
Make the most of your survey results.
Leverage a comprehensive offering – we guide you through launching, assessing, and acting on your feedback to optimize HR effectiveness.
Our advisors explain your results and help to uncover key insights based on your survey feedback.
We partner with you to create an action plan and share resources to implement the plan.
Collect vital insights to improve HR's support of
organizational goals.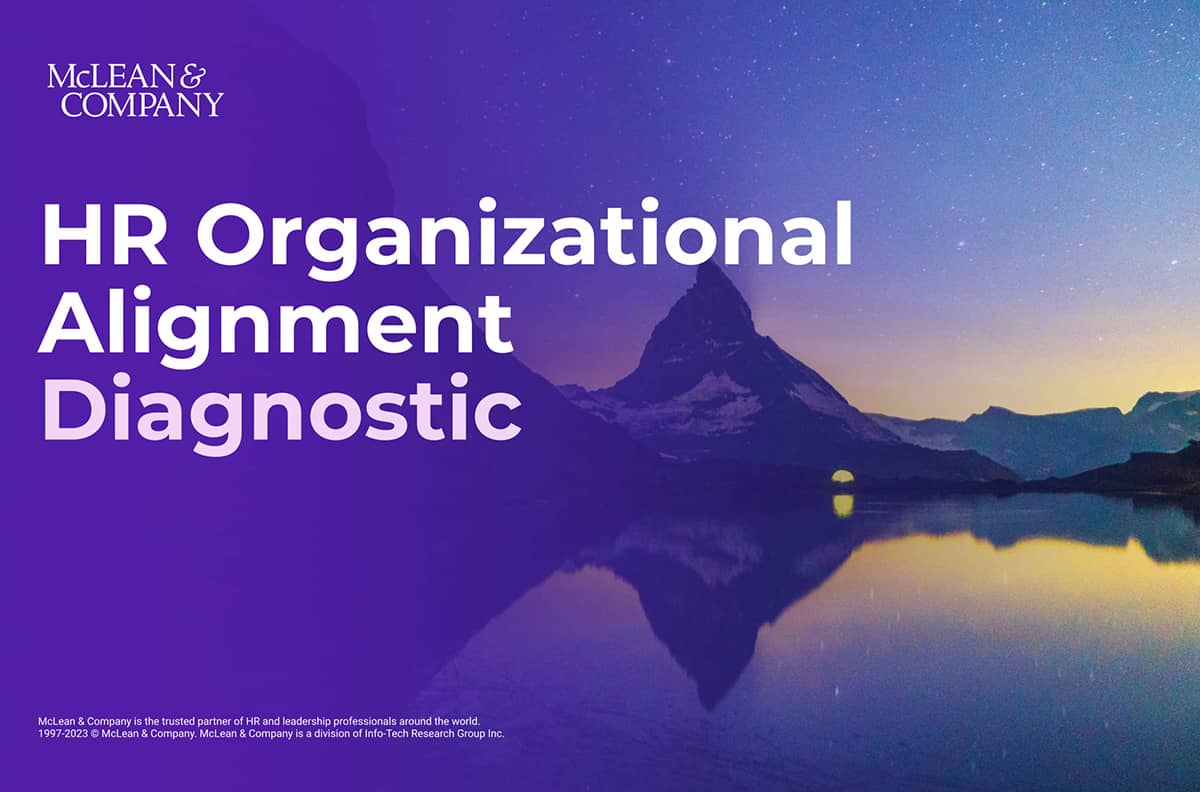 HR Organizational Alignment Diagnostic
Assess the organization's satisfaction with HR services, prioritize key initiatives, and optimize alignment between HR and the organization. (For leaders outside of HR.)
Align HR & Organization Strategy
Gain a holistic perspective of the HR department's impact through the Strategic HR Organizational Alignment Program. Leverage data and insights from the HR Management & Governance and HR Organizational Alignment diagnostics to inform your strategy.
Compare feedback about HR functions from people leaders across the organization and HR team members.
Effectively prioritize programs and initiatives based on organizational needs and HR capacity.
Build an annual action plan for improvement.
Contact us for more details on the
HR Management & Governance Diagnostic.