HR Organizational Alignment Diagnostic
HR Organizational
Alignment Diagnostic
Optimize alignment between HR and the organization.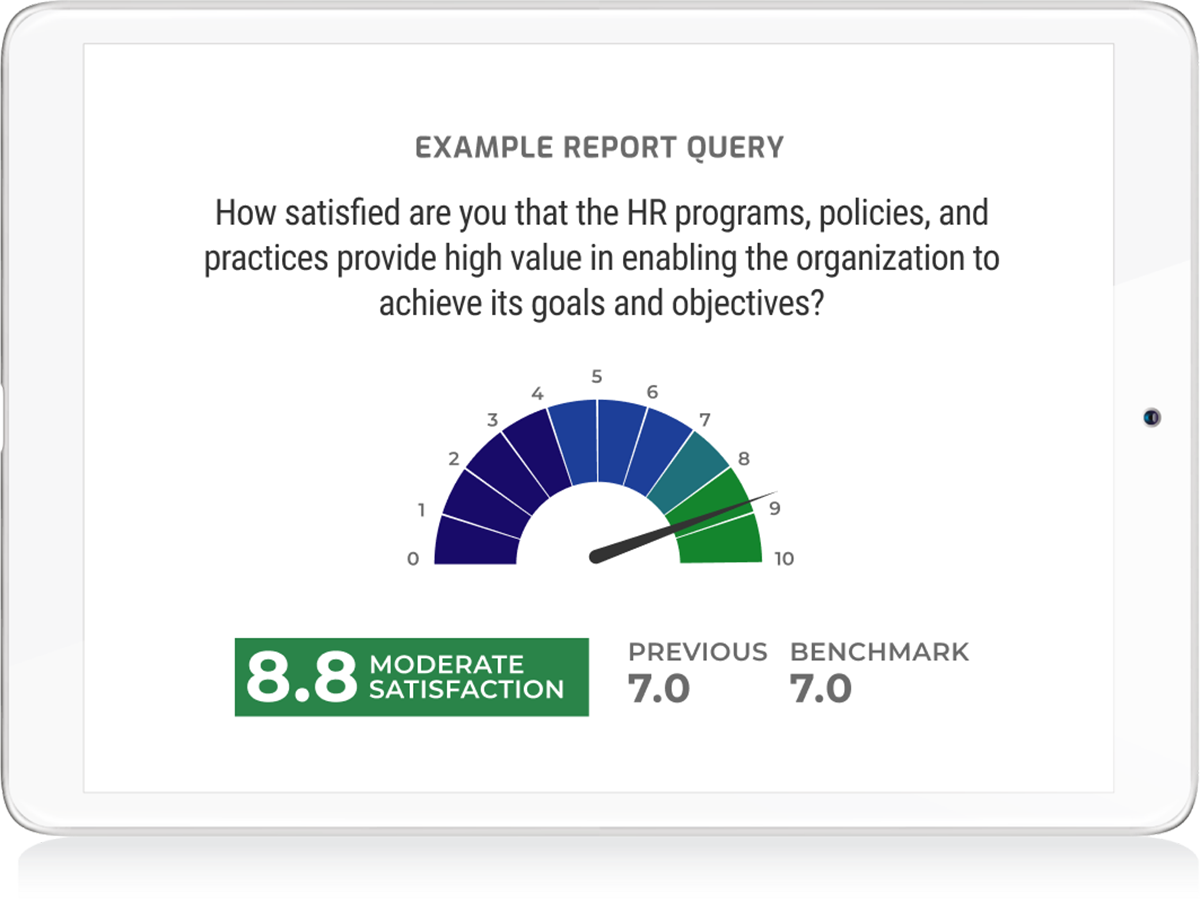 Feedback is crucial when refreshing or implementing HR strategy and initiatives. It requires an ability to connect with and market HR to key players throughout the organization, to measure the impact of changes made, and to use analytics to show progress on different levels and make informed decisions.
Built upon our HR Management & Governance Framework, the HROA Diagnostic collects critical feedback that helps you understand and address the needs of organizational leaders, prioritize your programs, and make data-driven decisions.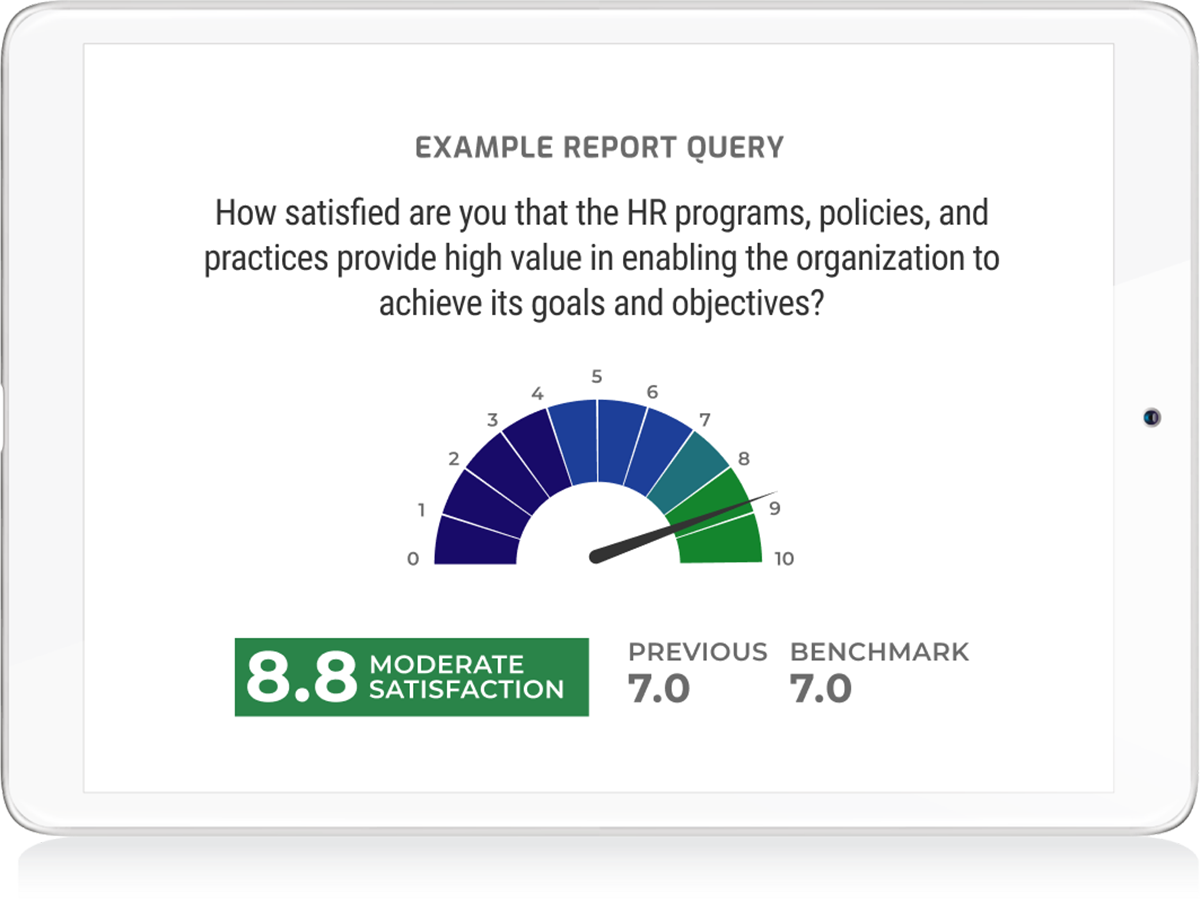 HR Organizational Alignment Diagnostic Feature Set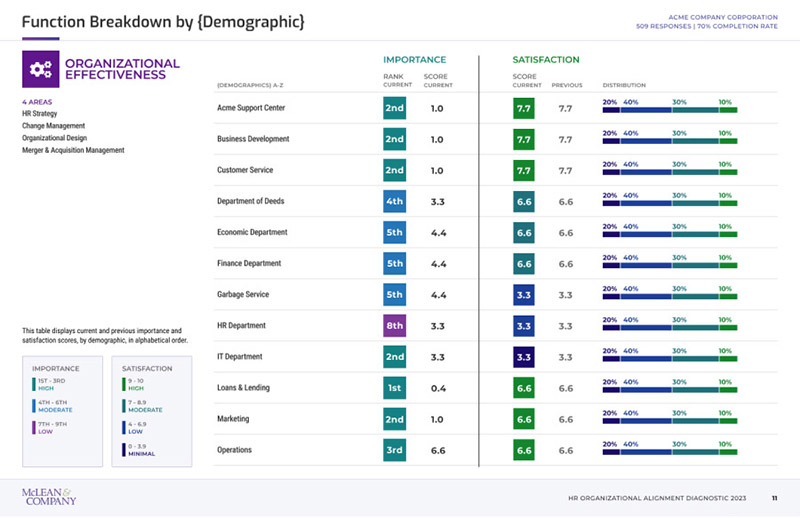 Function Overview: Overall Importance & Satisfaction
Importance ranking of each HR function
Satisfaction with each HR function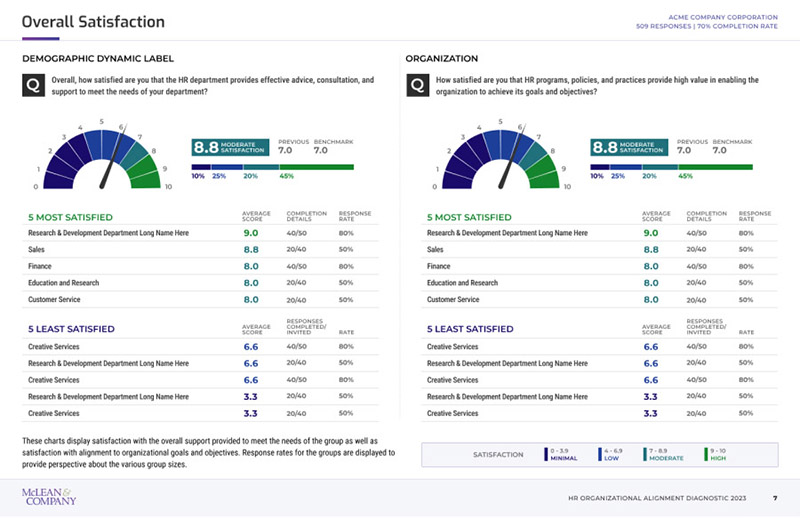 Overall Satisfaction
Overall satisfaction at the department level
Overall satisfaction with alignment to organization goals and objectives
Satisfaction: Operational Support
Satisfaction with day-to-day HR support
Satisfaction: Strategic Partnership
Satisfaction with HR's subject matter expertise, understanding of the department's needs, and collaboration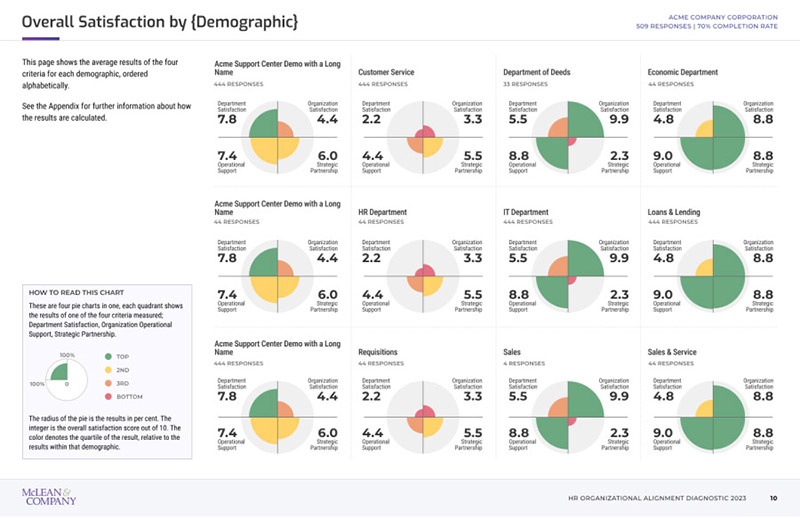 Overall Satisfaction by Department
Comparison of overall satisfaction scores across departments
Make the most of your survey results.
Leverage a comprehensive offering – we guide you through launching, assessing, and acting on your feedback to optimize alignment between HR and the organization.
Our advisors explain your results and help to uncover key insights to inform your HR strategy, structure, and initiatives.
Create evidence-based action plans to enhance strategic partnership with the organization.
Collect vital insights to inform HR strategy and
structure and enable organizational success.
HR Management & Governance Diagnostic
Identify the HR team's perceptions and ensure each HR area has assigned ownership and accountability. (For the HR team)
Align HR & Organization Strategy
Gain a holistic perspective of the HR department's impact through the Strategic HR Organizational Alignment Program. Leverage data and insights from the HR Management & Governance and HR Organizational Alignment diagnostics to inform your strategy.
Compare feedback about HR functions from people leaders across the organization and HR team members.
Effectively prioritize programs and initiatives based on organizational needs and HR capacity.
Build an annual action plan for improvement.
Contact us for more details on the HR
Organizational Alignment Diagnostic.