360 Degree Feedback
Improve Employee Development and Performance
In order to be successful in today's workforce, employees are requesting more development than ever before. A well designed 360 Degree Feedback Program is a critical building block of an organization's talent development strategy.
360 degree feedback benefits the employee by providing a multi-faceted view on key competencies. With the right elements in place, 360 Degree Feedback Programs can significantly improve employee development, performance, and as a result, the organization as a whole.
Multi-rater feedback is instrumental in giving employees a holistic perspective on their performance, and as a result, an excellent way for employees to receive the information they need to prioritize their development goals.
Reduce the administrative burden of 360 Degree Feedback Programs with a tool that is easy to use and largely employee-driven once the initial set up is complete.
HR can select from a set of 10 commonly used competencies introduced in McLean & Company's Develop a Competency Framework solution set or add in your own competencies.
HR assigns a required proficiency level in each competency to specific job roles in your organization.
The tool allows for quantitative feedback through numerical ratings of the competencies and qualitative feedback recommendations on how to develop each competency to achieve greater levels of proficiency.
Confidentiality is guaranteed as we compile the feedback report and a threshold of three respondents per rater group is met before feedback is reported.
If you'd like to learn more, download Design a 360 Degree Feedback Program to gain further insights on how to leverage multi-rater feedback to optimize employee development.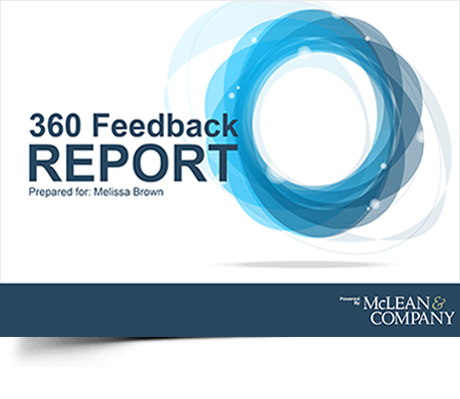 Schedule a Demonstration
Contact Us
Sample Report