Employee Engagement Program
Employee Engagement Program
Don't Just Measure Engagement. Improve It.
Identify opportunities for your organization to improve engagement and get the most out of your valuable workforce.
Engaged employees do what's best for the organization: they come up with product/service improvements, provide exceptional service to customers, consistently exceed performance expectations, and make efficient use of their time and resources. The result is happy customers, better products/services, and saved costs. McLean & Company's program is designed to help you improve engagement, not just measure it. If you're interested in developing and maintaining a high performance culture, this is the best way to do it. Customized to you, data-driven, objective and actionable.
---
Contact McLean & Company
to Get Started on Your Employee Engagement Program
Call: 1-877-281-0480 or Contact Us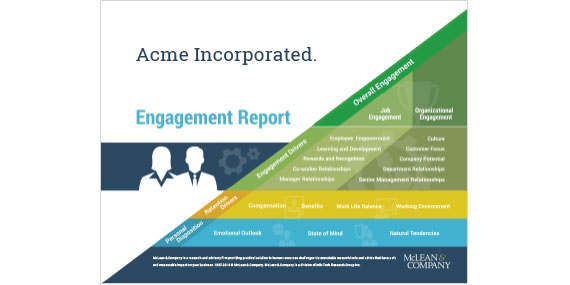 Benefits of Employee Engagement Program

McLean & Company takes you through all the steps required to effectively act on employee feedback and improve engagement.
Survey data collection, analysis, and reporting

Specialized segmentation

Action planning advice and presentation of results by an Analyst

Access to our research to help you implement change initiatives

Unlimited 1:1 phone calls with Analysts to work through engagement initiatives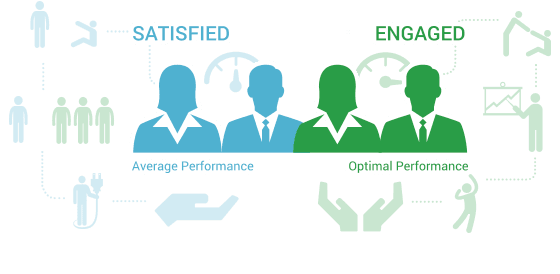 Employee Engagement Survey Reporting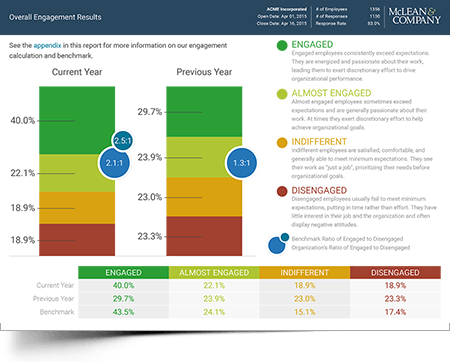 Overall Engagement Results
Features
A report that provides an overall breakdown of your organization's engagement results and engagement driver results.
You Get:
A clear breakdown of employee engagement results by demographic
Engagement Question Scores
Engagement Driver Scores
Benefits
Organizations with strong employee engagement are more productive. Rather than guessing how engaged your employees are, get a comprehensive view of your organization's engagement levels.
So You Can:
Take a deeper look at engagement levels across the organization

Diagnose specific areas of focus

Compare results year over year to measure improvements
---
Priority Matrix and Driver Scores
Features
By correlating engagement scores with driver scores the Priority Matrix identifies which drivers have the greatest impact on your organization's engagement levels.
You Get:
A priority matrix specific to your organization

A breakdown of question scores by priority matrix quadrant

Driver scores year over year
Benefits
Focus on the drivers that will really make a difference on your organization's engagement levels
So You Can:
Actually see improvements to both the driver scores, and engagement

Leverage drivers that are already doing well as a foundation to build upon

Know what not to focus your effort on – not all engagement drivers will have a high impact on engagement
Department & Location Results
Features
A report that provides a breakdown of engagement results for each demographic.
You Get:
A clear breakdown of employee engagement results by demographic

High performing areas and opportunities for improvement
Benefits
Breaks down the overall engagement results to the department or location level.
So You Can:
Action plan by identifying their specific engagement strengths and opportunities.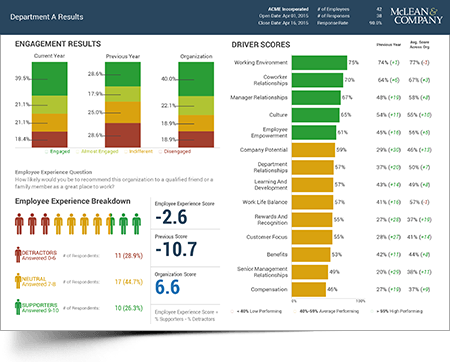 ---
Manager Results
Features
A breakdown of results for managers with sufficiently large staff.
You Get:
A clear breakdown of employee engagement results for each manager

An overview of how each driver scored

Top scoring and bottom scoring survey questions
Benefits
Results specific to each manager provides key engagement metrics for managers with a sufficient employee count.
So You Can:
Action plan right down to the manager level

Recognize managers who are doing the right things to engage their employees

Help managers who aren't using successful engagement practices

Empower managers to take responsibility for their team's engagement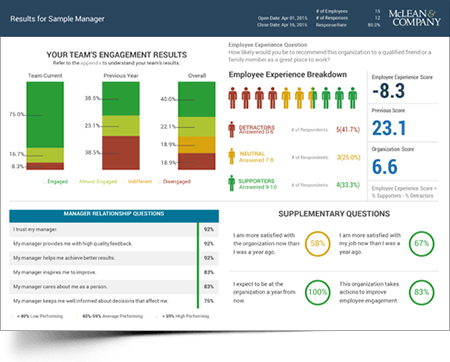 Don't just measure your Employee Engagement.
Improve it by action planning.
Use our four phase approach:
Phase 1:
Communicate & Understand Results
Communicate to management

Communicate to employees
Phase 2:
Solicit Staff Feedback
Solicit staff input on priority drivers and generate ideas for improvement
Phase 3:
Develop Action Plans
Executives and HR review, assess, and compare ideas

Document project plan for implementation
Phase 4
Implement Action Plans
Roll out chosen initiatives

Communicate initiatives and timelines
McLean and Company can guide you through these phases.
Through analyst calls and research based solution sets, we can provide advice each step along the way.
Need more help?
Take your engagement results to the next level
with McLean & Company's facilitated Employee Engagement Action Planning Workshop.
Dig deeper to get your employees' perspectives on what's working, what's not, and how to improve it. After we facilitate focus groups to gather employee feedback, we'll work with your HR team and the greater executive team to build action plans that are meaningful to your employee's engagement. We'll come onsite and be hands on with you.
---
Our Employee Engagement Action Planning Workshop can help you:
Prioritize engagement drivers using survey results to focus change initiatives on impactful areas

Lead effective brainstorming sessions with staff to involve employees in the change process

Select quick fixes and long-term initiatives to implement

Gain approval, assign accountability and develop a project and communication plan for all initiatives

Identify your post-survey engagement plan: timelines, next steps, accountabilities, and responsibilities for at least 3 significant initiatives and unlimited quick-wins
Customize a workshop to meet your needs using our modular approach:
1. Understand & Prioritize
Present engagement survey results to your executive team and prioritize engagement drivers for action planning
2. Participate
Facilitate focus groups to gather employee feedback
3. Action Plan
Facilitate an action planning meeting with your executives to prioritize employee initiatives and build an action plan to improve employee engagement
4. Communicate
Work with you to identify key communication messages and build a communication plan