Essentials for Leaders of Leaders
Essentials for Leaders of Leaders
Equip your leaders of leaders with the skills to integrate a big picture perspective into their day-to-day activities to drive organizational success.
Book a Call
Blended Learning
Leader of People Managers
20 hrs / 4 wks
Certificate
Essentials for Leaders of Leaders Program
Program Overview
The evolving world of work presents a significant challenge for leaders of people leaders who struggle to find the time to shift their focus from day-to-day operations to a more strategic, big picture approach. Adding further complexity to the role, leaders of leaders must also balance the competing demands of their team and executive leadership.
Invest in your leaders of leaders today and equip them with the frameworks to help them integrate a strategic organizational and talent lens into day-to-day actions.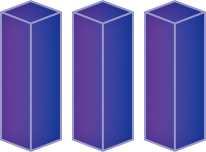 3 Pillars of Program Design
Our blended learning structure recognizes that your leaders have a lot on the go. With that in mind our program is designed based on 3 pillars.
1
Bite-sized, varied content that can be approached in manageable blocks that fit around other time commitments.
2
Practical activities designed to encourage immediate application of tactical strategies and frameworks.
3
Intentional peer-to-peer learning opportunities to facilitate networking and deepen reflection.
6 Topics to Develop Essential Leadership Competencies
Post program, learners will apply their insights in a two-month-long organization-specific project, collaborating and applying key lessons in small groups. This drives direct application and helps achieve your organization's strategic goals.
Essentials for Leader of Leaders Program Structure
---
Strategic Direction +
Execution & Influence
WEEK 1
Self-Directed
eLearning (2-3hrs)
Practice
Live Facilitated
Discussion(2hrs)
Business Acumen &
Managing Risk
WEEK 2
Self-Directed
eLearning (2-3hrs)
Practice
Live Facilitated
Discussion(2hrs)
Elevate the Talent &
Employee Experience
WEEK 3
Self-Directed
eLearning (1-2hrs)
Practice
Live Facilitated
Discussion(2hrs)
Change
Management
WEEK 4
Self-Directed
eLearning (1-2hrs)
Practice
Live Facilitated
Discussion(2hrs)
---
FOLLOWING 2 MONTHS
Strategic Project
Selected in partnership with the organization
Worked on throughout the program
In collaboration with other members of the program (groups of 5)
Final output: Presentation to senior leadership team/leadership at the organization
Also See:
Management
Fundamentals
Have you prepared your managers with the basics of people management? A critical input to being an inclusive leader is an understanding of the foundations of people management such as communication, delegation, and so much more.
Learn More

& Self-Paced eLearning
Facilitated Sessions
First-Time Leaders
17.5 hrs / 12 wks
Certificate
Facilitated Session
First-Time & Experienced Leaders
3 hrs
Leadership
Development Coaching
Complement the Essentials for Leaders of Leaders program with Leadership Development Coaching to maximize the learning and development of your Essentials for Leaders of Leaders participants.
Learn More
Learn more about how this program can help
your organization.
Contact Us