New Hire and Rewards Survey
New Hire Survey
Get it Right from the Start.
Ensure your recruiting and onboarding programs are effective, or risk losing top talent to disengagement. Identify both effective and ineffective organizational practices from the fresh perspective of new employees on key factors that impact long-term employee engagement and performance success.
Get vital feedback on:
Recruiting efforts - Find out if your job marketing efforts are successful, which paths your candidates took to find you, and whether your company is maintaining an attractive profile.
Interviewing process - Ensure candidates experience an organized, professional, and ethical process that accurately set their expectations for the job.
Onboarding process - Make sure your new hires are being trained and integrated into their team effectively.
Organizational culture - Is your culture welcoming and inclusive? You need to know if top talent enjoy the environment you have to offer.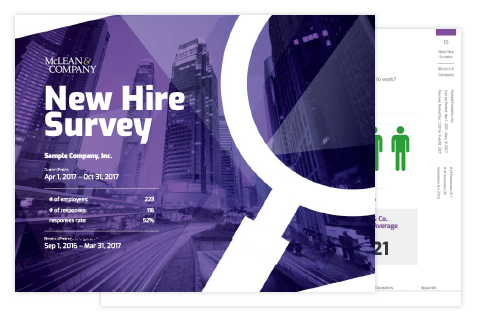 Schedule a Demonstration
---
Get Started
All you have to do is request the survey. We take care of the logistics, reporting, and analysis.
Use the survey for as many new hires as you wish.
We collect and analyze the aggregate results over time.
Reports that outline the major successes of overall hiring and onboarding program.
Reports that outline your opportunities for improvement.
Analyst consultation every 6 months to discuss initiatives to improve your new hire experience.