We bring learners together to develop vital skills
With our online learning programs, leaders can now learn anywhere, anytime. Develop your managers with our varied, interactive, remote training sessions. Online training requires a minimum of 7 up to a maximum of 12 participants per session.
Blended Learning Training Programs
What can you expect from McLean's Blended Learning Training Programs? Our training programs are designed to provide you with an interactive, engaging learning experience. You will complete activity-rich LMS modules, participate in facilitated live online discussions, learn from the knowledge of peers, and keep key learnings top of mind through ongoing learning reinforcements.
---
Help new people managers quickly excel with this practical, interactive, and impactful manager training program. Managers will be able to study key management concepts at their own pace and from the comfort of their home or office over a multi-week period.
We know people management is challenging. We have structured our program to cover those foundational capabilities to equip your managers to succeed.
Throughout the program, you can expect to focus on many topics including:
Effective Communication & Building High-Performing Teams
Managing Performance Through Feedback & Coaching
Delegation & Accountability
Navigating Difficult Conversations & Conflict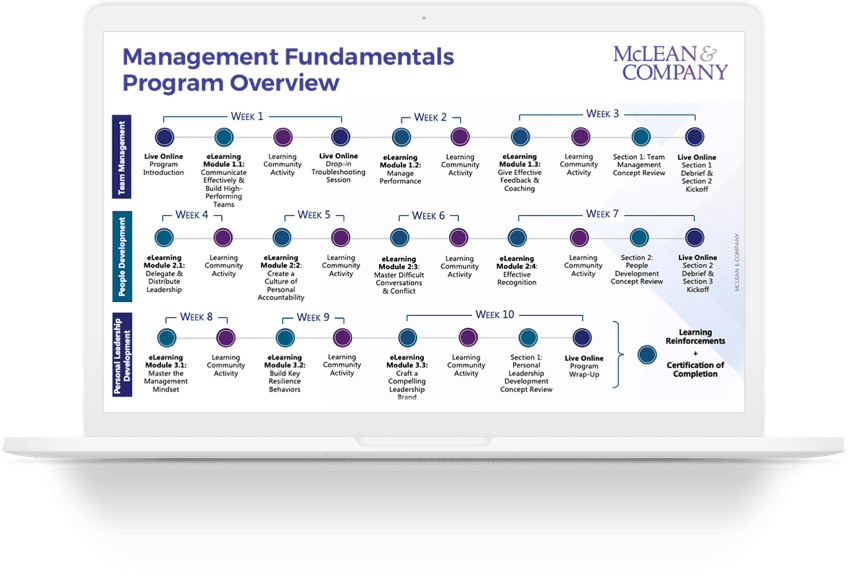 ---
HR is facing increasing demands and growing complexity. Our Elevate HR Online program is designed to develop a strategic HR mindset and help HR practitioners better respond to the workplace of the future.
Throughout this human resources training program, learners can expect to focus on:
Building relationships to provide value to internal and external stakeholders.
Business acumen & financial literacy to develop an understanding of the business and industry to inform talent decisions.
Data literacy to identify, interpret, and tell a story with talent data.
Organizational awareness to more effectively align HR advice and strategic direction with organizational objectives.
Developing as integrated leaders to unravel the knotty challenges that today's organizations face.